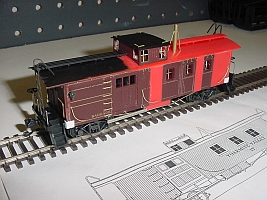 Now to the car body. Simply take the car body and cut the queen post beams off (length wise) as you are going to re-use them. Once you do that, align the stairs to the back of the car and measure up 1-1/2" from the back of the stairs. This should be at the first beam after the bolster. Do the same for the opposite end. You should have approximately 2-5/8" to make up. I used what I had on hand which happened to be a .060" thick piece of styrene sheet I have left over from a 1/48 Scale Saturn 1B project. I simply cut it to fit the length I needed- to make up the remainder of the car body. Once done, I position the queen post beams per the plans and glued them in place. You may have to do some sanding to get the height right. The tie rod was fashioned from .020" brass. The ladders were hi-jacked off an Athearn caboose I had laying around and been well used by my son when he was 6. The brake and safety rail were from the original Mantua caboose.
I used the cupola from the Mantua caboose and filed the window frames out to match the dimensions of the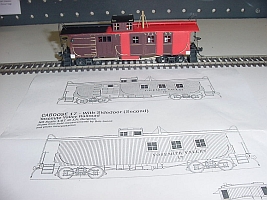 plan. I used .020" brass wire to fashion the windows. The side windows were also fashioned in the same manner. The shades were fashioned from a woven beige envelope, and really looks like canvas. The grab irons, and hand rail were fashioned from .020" brass. The smoke stack (which should be on the left side of the caboose), was fashioned out of .100" brass tube and the supports out of .012" brass rod. The roofwalk was cut to length. The side markers are Tomar Industries, with a battery light kit in it to give some additional weight. The switch for the marker lights was placed on the bottom of the car. The L step below the baggage doors were fashioned out of a piece of N scale nickel rail. The brackets are made from .020" brass wire.
The trucks are from Kadee, though they are not correct for this car, and were mounted using the original bolsters. Jack Burgess, noted Yosemite Valley Railway historian and modeler, is working with Bethlehem Car Works to have the distinctive trucks for the #17 cast. Click here for updates. Kadee #5 couplers were installed using the Kadee draft gear boxes and shimmed as needed.
Page 2