Welcome to The Gif Division Headquarters of the Santa Fe Southwestern Railway. Here at this facility you will find an assortment of GIFs ranging from freight to passenger equipment from popular roads, fallen flags (All Fallen Flag GIFs are shown under their current owner's section and are marked with a red *), and even some not so familiar names. The new Interchange Yard features GIFs from other terrific artists. Feel free to use any GIF you see but please read the Copyright Notice by visiting the link below. All GIFs in this facility are subject to the terms of that notice. Stop by the Visitors Lounge to sign the Visitors Log and more. If you are a return visitor, please visit the Car Shop for any updates or additions since the last time you were in. Thanks for stopping by and enjoy your visit!


Note: This site is best viewed at 800x600 or larger.


Welcome Letter from the Facility Manager


Copyright Notice and Terms of Use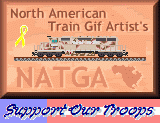 Visitors Lounge


GIF Scenes


Awards


View my webrings/online groups


Email the facility manager


You are visitor number to this facility since 1 Jan 02.

This site was last updated:
Thursday, 14 May 2009