In this album are photos of my HO scale Santa Fe Southwestern Railway locomotives and rolling stock. (Currently, all equipment photos are 'in progress' shots. Equipment is not complete as of yet.)

A little background on the Santa Fe Southwestern is probably in order as you sit there scratching your head asking, Where the heck was that railroad? The SFSW is a freelance common carrier in southern Nevada into southern California, near the Arizona border. The railroad was chartered as an ore hauling line for several local copper mines as well as a couple of large quarries. Over the years, all but one mine closed and the quarries have long been gone. The railroad now survives by providing bridge traffic as an interchange between the Union Pacific to the north and the BNSF to the south, as well as hauling ore from the one remaining mine.

A complete history is in the works as is a website that will detail my plans for modeling my railroad as it would have appeared in 1991.

Comments are welcome and suggested!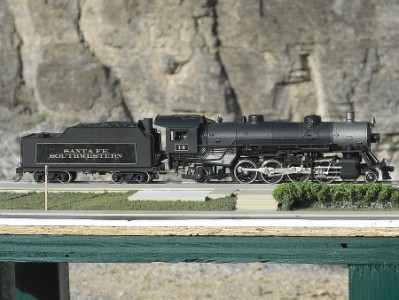 SFSW #14
SFSW #14, a preserved steamer used in excursion service and pulls the business train on occasion.